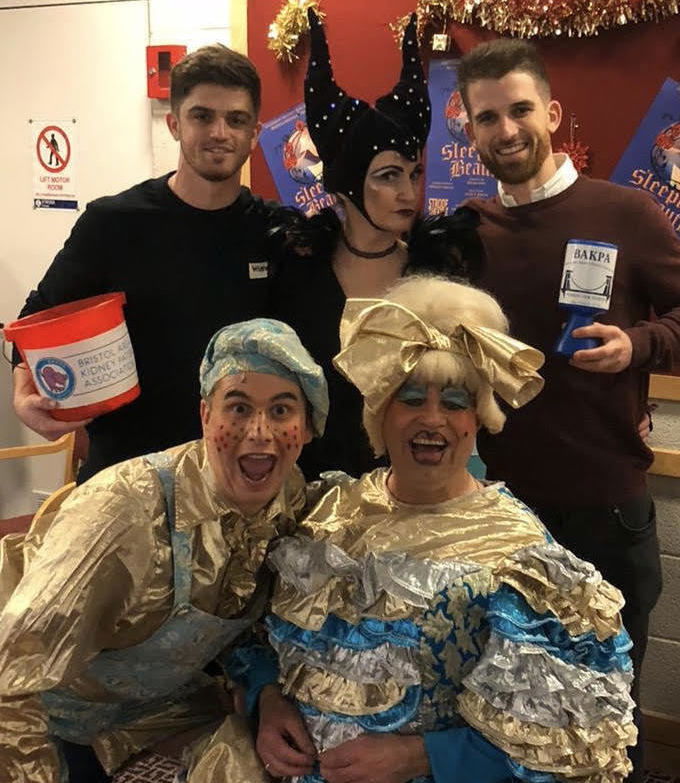 Generous theatre-goers in central Somerset have donated hundreds of pounds to a south west charity supporting a panto baddie's children.
Following 10 performances of Sleeping Beauty at Strode Theatre, Street, over Christmas and New Year, audiences donated almost £1,500 through collections for the Bristol Area Kidney Patients Association (BAKPA).
The charity was chosen after helping the 27-year-old son of Cherry Lewis, the panto's Bad Witch Hazel. In 2014, her son Charlie was diagnosed with stage four chronic kidney disease. Five years after taking medications to slow down the deterioration of his kidneys and being warned the disease was incurable, his brother, 29-year-old Harry, finally passed all the tests to donate one of his kidneys. Following the operation in 2019, both brothers, who are from Glastonbury, are now fully recovered, and fit and healthy.
The Glastonbury and Street Comedy Musical Society decided to offer its support for the collections to take place after its shows to give thousands of panto fans who enjoyed Sleeping Beauty the opportunity to donate to this worthwhile cause.
Charlie said: "I want to say a huge thanks to everyone who donated to our collection after each panto, and helped support this brilliant charity. I know they will be delighted with how much our audiences have raised.
"As a way of saying thank you we wanted to raise money for the Bristol Area Kidney Patients Association as it aims to provide treatment, welfare and comfort for kidney patients. It has so far been able to provide funding for research, refurbishment of wards, provision of specialist equipment and providing accommodation for patients and their families."
Read more about
BAKPA on its website
.